Intellectual Property Rights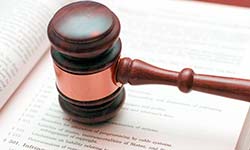 Submit Abstract
Register Now
The importance of intellectual property law is well established at all levels-statutory, administrative and judicial. It lays down minimum standards for protection and enforcement in member countries which are required to promote effective and adequate protection of intellectual property rights with a view to reducing distortions and impediments to international trade.
The Agreement provides norms and standards in respect of following areas of intellectual properties are Patents, Trademarks, copyrights, Geographical indications, Industrial designs.
The global intellectual property market will move a step close to maturity when IP laws are followed, information transparency is achieved, and strategic thinking is given importance. Leading economies have already passed laws to encourage this. In the United States, for instance, introduced the America Invents Act in September 2011. The act is aimed at enhancing product quality by collecting third party patent-related information and registering it with the United States Patent and Trademark Office (USPTO).
Intellectual Property Law for Generics and Innovator Rights
Safety and Quality Regulation in Labelling
Quality, Safety and Efficacy Issues
Patents in Pharmaceutical Industry: Legal and Ethical Issues
Global Pharma Products Registration
Related Conference of
Intellectual Property Rights
Intellectual Property Rights
Conference Speakers
Recommended
Sessions
Related
Journals
Are you
interested

in